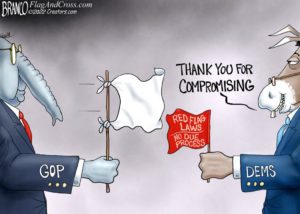 The Senate voted 64 to 34 yesterday to advance an 80-page gun safety bill to strengthen background check requirements for gun buyers under 21, provide funding to states to administer red flag laws and provide billions of dollars in new federal funding for mental health services.
Fourteen Republicans voted to proceed to the bill, including Senate Minority Leader Mitch McConnell (R-Ky.). RINO Senators  Shelley Moore Capito (R-W.Va.), Joni Ernst (R-Iowa), Lisa Murkowski (R-Alaska) and Todd Young (R-Ind.) also voted to proceed to the legislation.
The other nine Republicans who voted to proceed to the bill signed on to the bipartisan framework made public on June 12. They were Sen. John Cornyn (Texas), the lead Republican negotiator, Sen. Thom Tillis (N.C.), Sen. Richard Burr (N.C.), Sen. Susan Collins (Maine), Sen. Mitt Romney (Utah), Sen. Bill Cassidy (La.), Sen. Rob Portman (Ohio), Sen. Lindsey Graham (S.C.) and Sen. Roy Blunt (Mo.).
Senate Majority Leader Charles Schumer (D-N.Y.) said a successful initial procedural vote would set the bill up to pass by the end of the week. God help us all. The Constitution and the Bill of Rights mean nothing to these people.
This is how it will play out. Good guys will take the rap.