That's a headline from TIME Magazine, the once great magazine that's now a shill for the Left.
Quite frankly that's all I need to know!
The Administration, operating through the compromised FDA, decided back in June to switch to a new multi-booster for the 22/23 winter season and asked the Big Pharma companies to come back with one. (Not a vaccine. Remember mRNA is not a traditional vaccine. It prevents neither infection nor transmission.)
This "booster" would allegedly protect against Omicron and its new upcoming variants BA.4 and BA.5. Back then, Moderna and Pfizer were producing a product designed to "protect against" variant BA.1. They were asked to have the new juice ready by the end of August.
Sniffing $$$$, the companies duly submitted data on their new drugs last week, requesting emergency use authorization. Remember that they received exemption from legal challenges for injuries sustained under Trump and Biden. They are very cocksure these days. And even as the data floods in concerning adverse side effects from the jabs, their eyes are on the Big Prize: Annual covid shots; just like the annual flu shot.
Can you see what the problem here might be? Yep, testing in humans. It hasn't happened.
NY DAILY POST: Instead of waiting on data from testing in humans, the agency will use data from trials in mice — as well as the real world evidence of the safety of currently available COVID vaccines and test results from earlier iterations of boosters targeting older strains to evaluate the newest boosters. They are still peddling their lies.
FDA Commissioner Dr. Robert Califf said.
"Real world evidence from the current mRNA COVID-19 vaccines, which have been administered to millions of individuals, show us that the vaccines are safe," Califf said on Twitter. "As we know from prior experience, strain changes can be made without affecting safety."
More and more we realize that everything about the "vaccine" program was ill-conceived and dangerous. They have even had to change their own definitions regarding vaccines in the light of the dreadful performance of their mRNA therapies.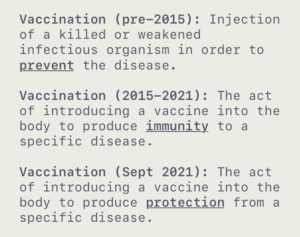 Little is known about the after effects of these therapies. But the world is aware that the death rates in 2021 and 2022 outstripping those of 2020 when the outbreak was at its peak. We know that young people are suffering dreadfully from heart conditions and blot clots attributed to the shots. We know that in utero babies are being born with more defects. COVID is seldom deadly, it has mutated and become less virulent. Risking the world's continued health on a experimental drug that hasn't completed its trials makes no sense. Unless you are drug company or one of its cronies.
TIME says:
That [no animal trials] has vaccine experts divided. Dr. Paul Offit, a member of the advisory committee, says this strategy makes him "uncomfortable" for several reasons. He notes that the data presented from Pfizer-BioNTech and Moderna in June involving their BA.1 booster shot, which focused on the levels of virus-fighting antibodies the vaccine generated, were underwhelming. "They showed that the neutralizing antibody titers were between 1.5- and two-fold greater against Omicron than levels induced by a booster of the ancestral vaccine," he says. "I'd like to see clear evidence of dramatic increase in neutralizing antibodies, more dramatic than what we saw against BA.1, before launching a new product. We're owed at least that."