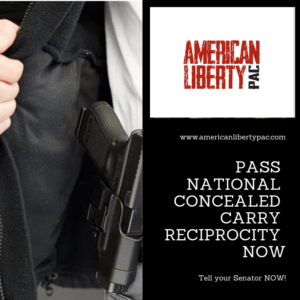 To: The U.S. House and my U.S. Representative
WHEREAS, the Constitution of the United States prohibits government from taking any action infringing upon our God-given right to keep and bear arms, and
WHEREAS under the Constitution's "full faith and credit" clause, states cannot refuse to honor permits and licenses issued by other states, and
WHEREAS incited by Pelosi, gun owners are being arrested when they cross a state line with a firearm they can legally carry concealed in their state, and
WHEREAS National Concealed Carry Reciprocity enforces the Constitution by making states recognize the concealed carry rights of those traveling from other states, and
WHEREAS National Concealed Carry Reciprocity protects the rights and safety of millions of Americans as they travel in the United States, and
WHEREAS this stops Pelosi and liberals from targeting people with legally concealed firearms traveling through an anti-gun state, therefore:
BE IT RESOLVED that I, a supporter of American Liberty PAC, direct you to co-sponsor and vote for a National Concealed Carry Reciprocity Act, and block any and all efforts by Pelosi to thwart its passage.
I and American Liberty PAC will watch what you do.
Signed
Paid for by American Liberty PAC and not authorized by any candidate or candidate's committee.
Contributions to American Liberty PAC are not tax-deductible for federal income tax purposes. www.AmericanLibertyPAC.com