F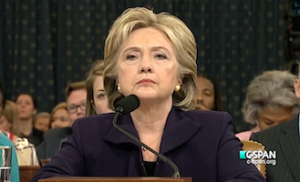 ormer U.S. Senator, presidential candidate, Secretary of State and First Lady of the United States, Hillary Clinton, could possibly have been a worse president than Joe Biden.
She has a terrible tendency to pop off at the wrong moment — remember her line about wiping the memory on her computer?  "What, with a cloth?"
She's really been at it recently — mostly on Twitter (I think she's convinced it worked for Trump and should work for her when she runs again).
The Supreme Court's decision to hear a case next term that would give state legislatures huge power over elections is the biggest threat to our democracy since January 6. https://t.co/XHXns1ZoWZ

— Hillary Clinton (@HillaryClinton) July 1, 2022
Um.  Wait just a second.  I think it's actually in the U.S, Constitution.  Let me think…
Oh, yeah:
Section 4: Elections
The Times, Places and Manner of holding Elections for Senators and Representatives, shall be prescribed in each State by the Legislature thereof; but the Congress may at any time by Law make or alter such Regulations, except as to the Places of choosing Senators.
Moving on.
The Supreme Court's overruling of 50 years of rights was the most arrogant misreading of history and law that you could ever find. https://t.co/kkVXP9Ujj0

— Hillary Clinton (@HillaryClinton) June 30, 2022
Except for one little problem, Roe invented a right not in the Constitution.  All this court did was uninvent it.
And this winner:
It shouldn't be harder to obtain an abortion than an AR-15.

— Hillary Clinton (@HillaryClinton) June 27, 2022
And Ole' Hillary is still harping on about the dumbass demonstration on January 6, 2021.
Trump wanted an armed coup. He asked for an armed coup. And he got it. https://t.co/s44tDZ6Vrr

— Hillary Clinton (@HillaryClinton) June 29, 2022
We cannot let those who attacked our Capitol on January 6—and those who urged them on—to get away with impunity.

That's what happens in dictatorships and authoritarian regimes.

— Hillary Clinton (@HillaryClinton) June 28, 2022
I don't know about you, but I don't want to limit anyone's rights.  But you can't just make up new rights all the time and expect us to respect them.
The right wing's ultimate goal is to erase the progress women have made over the last 150 years.

It has never been more important to use your voice to advocate for civil rights and democracy. https://t.co/nZFuJVmQho

— Hillary Clinton (@HillaryClinton) June 28, 2022
So this is how she looks at the world.  And we're the bad guys.  I pray that the only power she has from now on is her Twitter page.